Web Content Display
Web Content Display
Web Content Display
Web Content Display
Asset Publisher
Asset Publisher
Annuities are an excellent tool to help you plan for your financial future.
Features:
Guaranteed lifetime income
Tax-deferred growth1Withdrawal options when you need it2
Death benefit to help create a legacy that may avoid probate
The chart is a hypothetical example of tax-deferral and assumes an initial premium of $100,000, 4.00% compounded annual rate of return, 33% tax rate, and held for 15 years. The tax-deferred value less taxes represents the increase in value, due to tax-deferral, less taxes with no surrender charge or Market Value Adjustment (also known as Interest Adjustment) applied. This example is not intended to predict or project performance.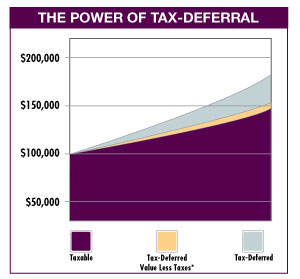 Web Content Display
Web Content Display
1. Under current law, annuities grow tax deferred. An annuity is not required for tax deferral in qualified plans. Annuities may be subject to taxation during the income or withdrawal phase. Neither North American Company for Life and Health Insurance®, nor any agents acting on its behalf, should be viewed as providing legal, tax or investment advice. Your client should be advised to rely on their own qualified adviser. 2. Withdrawals taken prior to age 59 1/2 may be subject to IRS penalties.