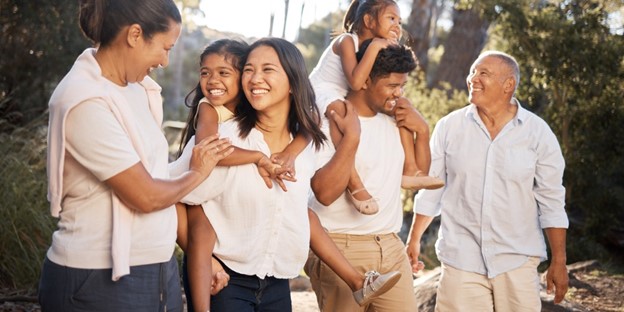 Choosing a life insurance policy at any age
Monday 17 May 2021
| Reading Time: 6 minutes
Throughout your life, your financial needs are likely to change. Because of this, your financial plan should evolve to help ensure you have what you need to meet your goals. Life insurance can be an essential addition to your overall strategy, no matter your age or stage in life. Even if you do not currently have life insurance, it can be an excellent time to consider how coverage can help protect your loved ones from the unexpected. Here's what you may want to think about during each decade and how life insurance can help.
Types of life insurance policies
There are generally two basic types of life insurance to consider: term and permanent policies.
Term life insurance
Term life insurance is a policy that has a level premium for a set number of years (the term) and will remain active as long as the premium is paid. Once the term expires, your premiums will increase annually. To continue the coverage, you generally have the option to pay the higher premium, shop for a new policy or convert your policy into permanent life insurance. As long as your policy is active, your beneficiary will receive the death benefit as a lump sum following your death. This lump sum can be used for various needs, from burial expenses to mortgage and debt payments and general living expenses for your family. The death benefit is typically tax-free. Term life insurance generally offers you the following:
Affordable life insurance protection
A generally tax-free death benefit for your beneficiary
Permanent life insurance
Permanent life insurance is the general term for life insurance policies that do not expire. Unlike term life insurance, which provides death benefit protection for a specific period of years, permanent life insurance can last the insured's lifetime as long as premiums are paid, subject to the terms of the policy. These policies may also offer the potential to build cash value. The cash value for permanent life insurance policies typically grows tax-deferred, which means you don't pay taxes on any earnings as long as the policy remains active.1 Policyholders may access cash value 2 for a variety of reasons, including:
Help Supplement their retirement income, generally tax-free
Potentially reducing income taxes in retirement
Covering medical bills during an illness
Assisting with the mortgage or rent
Paying college tuition
Reducing debt like credit cards and student loans
A permanent life insurance policy typically costs more than a term life policy, but permanent life coverage offers you:
No expiration date. You can keep it as long as you pay the required premiums
Potential cash value growth
How much life insurance do I need?
The life insurance you buy generally depends on the money needed to pay off your debts, cover final expenses, and help support your dependents in your absence. Partnering with a financial professional throughout your life can help keep your financial goals on track and provide a trusted source of information and guidance. You can also seek their help in discussing your life insurance needs and what amount of coverage would be most suitable. Remember, your life insurance needs can change as you age, so regularly meeting with your financial professional can ensure your coverage amount still meets your current situation.
Life insurance in your 20s
As you enter adulthood, you are not only the youngest but typically the healthiest you'll ever be. Since life insurance rates are commonly based on age and health, you usually can get the lowest premiums in your 20s. Life insurance can be a valuable purchase even if you're single or do not have dependents. With the average funeral costing over $7,800, final expenses can be expensive for the people left behind. Life insurance can help ease the financial burden on your loved ones. Plus, if you choose permanent life insurance, you can access the cash value through policy loans to help with financial needs or unexpected emergencies.
Benefits of buying life insurance in your 20s:
Pays for funeral expenses
Offers lower coverage rates
Financially protects your loved ones
It helps your beneficiary pay off debt, whether a mortgage, credit card, or a student loan
Since it's typically straightforward and affordable, term life insurance can be an excellent choice for most life insurance shoppers in their 20s, even if you're on a budget. While you may start with a minor policy, you can revisit your coverage when your life changes, such as changing jobs, getting married, or starting a family.
Life insurance in your 30s
Stepping into the third decade of your life often brings new financial responsibilities and maybe when you have accumulated more assets. You may also have a partner or spouse, bought a house, and perhaps have children. Adding life insurance protection to your financial plan can help protect your family from financial hardship if you are no longer here to support them.
If you purchased a policy in your 20s, now may be a good time for a policy review. Figuring out how much insurance you need is generally based on your family's financial obligations. If you have children, it's also important to consider their future should something happen to you. As you explore your life insurance needs, consider such factors as the cost of caring for your child and the cost of living for your family after you're gone. What are your monthly bills and fixed expenses? Did your income help with necessities like food and medical costs? Are there other quality-of-life needs?
Benefits of buying life insurance in your 30s:
Provides protection for a spouse or partner who relies on your income
Helps cover funeral expenses
Assists with childcare expenses
Helps ensure your beneficiary doesn't take on your debt, like the mortgage, credit card debt, or a student loan
Life insurance in your 40s and 50s
Your needs generally change when you get older. For instance, you may no longer have children living with you, but they might still need your financial support. You may have accumulated more financial assets or are thinking about creating a legacy to leave to your loved ones. Life insurance coverage will generally cost more as you age, but it can still be very affordable. If you already have a policy through your work, now may be a good time to review it, make any adjustments, and consider adding additional insurance. Your workplace life insurance may not be enough to cover your family's needs, and if you change jobs, you typically cannot take the policy with you. During these years, you may consider permanent life insurance, which offers potential cash value growth opportunities. This benefit can give you greater flexibility when saving for retirement and estate planning.
Benefits of buying life insurance in your 40s and 50s:
Offers financial support to your spouse or partner who relies on your income
It helps prevent financial hardship for beneficiaries who have to pay their debt on a mortgage, credit card, etc.
Helps cover final expenses
Offers a way to pay for estate taxes
Provides education funds for your children
Creates an inheritance for your loved ones
Life insurance in your 60s and beyond
Even if you're approaching retirement and do not have life insurance, you may still have coverage options to help bring protection and peace of mind.
Many life insurance policies offer living benefits in addition to the death benefit coverage. Permanent life insurance can help with your retirement planning. Maybe you're closing the gap to retirement, but your account is not quite where you want it to be. Cash value from your permanent life insurance policy can help supplement your retirement income, and you might be able to reduce the amount you withdraw from your retirement accounts. During retirement, withdrawals from your retirement accounts are generally taxable as regular income.1 Plus, taking income from both your retirement accounts and your life insurance policy could help keep you in a lower tax bracket.2
Benefits of buying life insurance in your 60s and beyond:
Pays for medical bills or other final expenses
Offers a way to pay for estate taxes
Provides money for debts or bills your loved ones must pay
Helps with retirement planning
Creates a legacy or inheritance for your beneficiaries
Talk to a financial professional
Knowing you're financially protecting your loved ones and their quality of life can help bring you peace of mind through every stage of life. No matter your age, discussing your specific needs and financial goals with a financial professional can allow you to create a road map for the years ahead. You can also work together to determine which life insurance policy makes the most sense and the coverage amount that will provide the protection you need to help safeguard your family's future.
---
1. Neither North American Company for Life and Health Insurance nor its agents give legal or tax advice. Please consult with and rely on a qualified legal or tax advisor before entering or paying additional premiums for such arrangements.
2. Policy loans from life insurance policies generally are not subject to income tax, provided the contract is not a Modified Endowment Contract (MEC), as defined by Section 7702A of the Internal Revenue Code. A policy loan or withdrawal from a life insurance policy that is a MEC is taxable upon receipt to the extent that the contract's cash value exceeds the premium paid. Distributions from MECs are subject to federal income tax to the extent of the gain in the policy, and taxable distributions are subject to a 10% additional tax prior to age 59½, with certain exceptions. Policy loans and withdrawals will reduce cash value and death benefits. Policy loans are subject to interest charges. Consult with and rely on your tax advisor or attorney on your specific situation.
Life insurance policies have terms under which the policy may be continued in effect or discontinued. Permanent life insurance requires monthly deductions to pay the policy's charges and expenses, some of which will increase as the insured gets older. These deductions may reduce the cash value of the policy. The current cost of insurance rates and current interest rates are not guaranteed. Therefore, the planned periodic premium may not be sufficient to carry the contract to maturity. For costs and complete details, refer to the policy or call or write North American Company for Life and Health Insurance at One Sammons Plaza, Sioux Falls, SD 57193. Telephone 877-872-0757.
The term financial professional is not intended to imply engagement in an advisory business in which compensation is not related to sales. Financial professionals that are insurance licensed will be paid a commission on the sale of an insurance product.
B4-NA-9-23