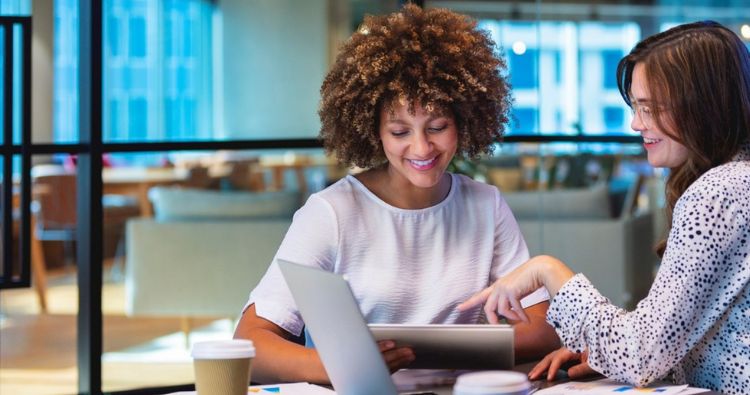 How to prepare to meet with a financial professional
Monday 2 October 2023
| Reading Time: 5 minutes
If you've decided that you could benefit from meeting with a financial professional, you may wonder what to expect and how to prepare for your discussion. Here's a closer look at financial professionals' services and the steps you can take beforehand to make the most of your financial planning conversation.
What does a financial professional do?
A financial professional can help you identify your short- and long-term financial goals and then develop a holistic strategy for reaching those goals. They can help with familiar topics, including money management, budgeting, saving, investing, and planning for retirement. As experts in their field, financial professionals can answer questions, discuss concerns, and provide suggestions for solutions that could fit your needs. Most importantly, they can act as your partner with your best interest in mind and help you find balance and financial security.



Do I need a financial professional?
While you can create a financial plan without the assistance of a financial professional, having their guidance can help make the process easier. As a go-to resource, they can answer your questions, give suggestions for solutions that can meet your needs, and revise your plan as you age and experience different life events. Depending on your individual goals and preferences, a financial professional can help you create as broad or as detailed a plan as you need for your personal situation, goals, and timeline.



When should I seek out a financial professional?
Working with a financial professional can be valuable at any age, but there are major life events that are especially good times to seek professional assistance. For example, graduating college, entering the workforce, getting married, starting a family, buying a house, or approaching retirement are all milestones where the guidance of a financial professional could be useful. Together, you can conduct a financial check-up to review your finances, evaluate your spending, and determine if any changes need to be made to keep you on track.
The benefits of a financial professional
When you meet with a financial professional, you're able to access the latest market and financial trends and talk to someone who is well-versed in the solutions that can help address your concerns. Working with a financial professional can help you:
Build a diversified strategy
To better balance risk and reward and protect a portion of your financial portfolio from risks like market volatility, a financial professional can help you develop a diversified financial plan. This means you avoid "putting all your eggs in one basket" and can choose from a variety of options that can help you manage risk, increase savings, and work together to support the entire financial picture.
Keep pace with inflation
With high inflation rates, planning ahead and keeping up with rising prices can be difficult. Plus, inflation can affect the value of a dollar and affect your financial situation. By working with a financial professional who constantly monitors the market and is on top of expected declines and inflation periods, you can better understand the market cycle, decide if adjustments need to be made, and learn how to build a plan that is more resilient to changing economic trends or market volatility.
Manage ups and downs
Although there will be times when a financial professional may advise adjusting your current financial strategy to account for inflation or market changes, it is relatively normal for the market to fluctuate, and overreacting to temporary changes in the market can push your long-term goals off track. A financial professional can provide a voice of reason and let you know when to be concerned and when to remain steady while keeping your desired goals and timeline in mind.
Prep for the unexpected
Not only can a financial professional help you build an emergency fund, but they can also assist you if an unexpected event does happen. Several events can derail your financial life, like a significant illness or injury, a drop in the market, losing a job, or required car or house repairs. Your financial professional can discuss if the unexpected does happen and help you navigate the situation more successfully.
Protect your family
If financially protecting your family's future is a goal of yours, a financial professional can help you explore your options and the different types of life insurance that may work for you. By knowing your personal situation and stage of life, you can receive helpful advice on the type and amount of coverage you may need to protect your loved ones.
Leave a legacy
Creating an estate or legacy plan allows you to pass on your assets to your loved ones. A financial professional can help streamline this process and share tips for communicating your wishes clearly, building a plan that maximizes your assets, and how to leave behind a legacy you can be proud of.



Choosing a financial professional
Deciding to work with a financial professional is a great step toward boosting your financial well-being, but you might be wondering how to choose who's a good match. There are different types of financial professionals, often with their own specializations, education, and certifications. Some may focus on investing and retirement strategies, while others specialize in life insurance or estate planning. It's a good idea to research and ask specific questions to find which one will align with your needs and help you achieve your current and future goals.
Retirement planning with a financial professional
Financial professionals specializing in retirement can help you create long-term strategies built around reaching your retirement goals. They can advise on tax planning in retirement, investment options, annuities, and more. Retirement professionals can also assist with ensuring your legacy lives on through estate planning.



How do I prepare to meet with a financial professional?
If you have a meeting scheduled with a financial professional, there are a few things you can do beforehand that can help maximize your time together. Gather all your account logins if necessary, prepare your pertinent financial documents, and list a few ideas of the goals and topics you would like to discuss. Having a general goal for your meeting will help direct the conversation. Still, your financial professional will likely start with fact-finding questions to better understand your situation and what you hope to accomplish.
Organize financial planning documents
Before you meet a financial professional, you'll want to gather all necessary documentation, including bank statements, paychecks, debt summaries, and insurance plans. Having these documents handy can help your professional create a more holistic financial picture, where they can then better understand your current financial situation, risk tolerance, potential income gaps, and how they can best help you moving forward.



Questions to ask a financial professional
Putting together a list of questions can help you better understand your financial professional and their approach to working with clients. You may also have specific questions or concerns about your finances and want to increase our knowledge and understand the products and solutions that could be a good match. Your first meeting can help you decide if you're well-matched with this individual and can trust them to listen to your specific needs objectively. Some questions to consider asking your financial professional include:
What are your qualifications and background?
How are you compensated?
What is your investing philosophy?
How often should we meet?
How often do we review my financial plan?
How much risk can I afford to take on?
What asset allocations do you typically recommend?
How do you help me keep my financial goals on track?
What benchmarks do you use to monitor progress?
As you build a financial foundation and expand your money knowledge, partnering with a financial professional can help you make more informed decisions and get you on the right track toward achieving your goals. No matter what life stage you're in or where you're at financially, having an expert in your corner can make money management easier and help you explore how different solutions, like annuities and life insurance, can create a holistic, diversified financial strategy.
---
The term financial professional is not intended to imply engagement in an advisory business in which compensation is not related to sales. Financial professionals that are insurance licensed will be paid a commission on the sale of an insurance product.
B1-NA-10-23