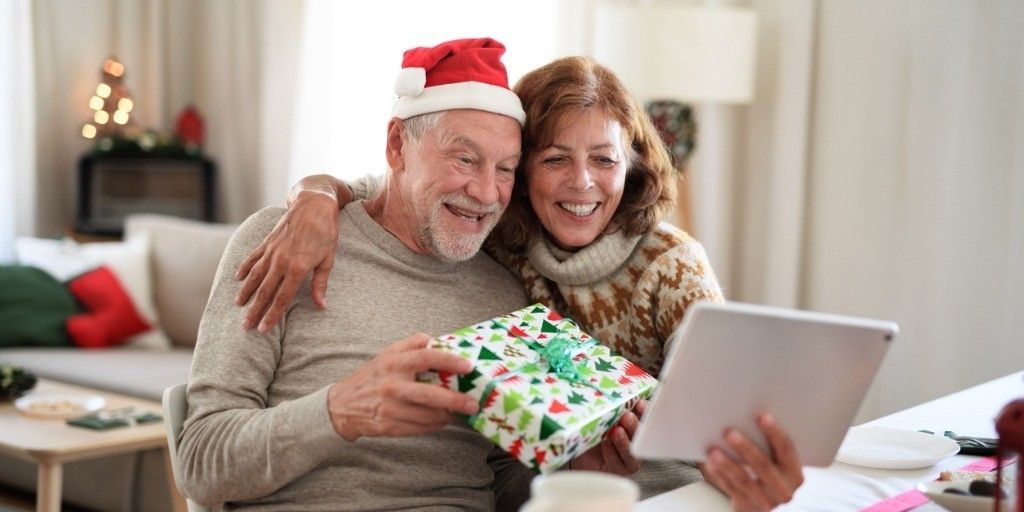 Ways to celebrate the holidays virtually
Monday 14 December 2020
| Reading Time: 6 minutes

This holiday season many Americans are choosing to stay home and stay safe as the coronavirus pandemic continues. But that doesn't mean you can't still have fun with your loved ones by planning a virtual holiday party! Here are some ideas to help you celebrate the holidays virtually.
Connect with a video call
Video chat services allow you to interact with your family and friends when you can't be with them. Once you've chosen your video chat platform, you can use it to host a virtual get-together in a variety of ways.
Play virtual games
Gaming over video chat is a lot of fun. Here are a few suggestions for hosting a holiday game night with your friends or family.
Trivia
Who doesn't like trivia? To play, use a random trivia generator and simply start asking questions. Each person in your group can send his or her answer in the platform chat feature at the same time.
20 Questions
This is a classic, easy game where you ask each member of your group 20 creative questions. It's designed to get to know people better by sharing and talking about personal things.
Bingo
Always a crowd-pleasing game of chance that's simple to play. Each player has a card with numbers printed in different arrangements. A game host, or caller, draws numbers at random and the players match those called on their card with tiles. When a player covers numbers on their card in a row, they call out "Bingo!" to claim a winning card. The host then verifies that the card is a winner. You can make your own Bingo cards, or search online for some free options.
Virtual charades
Charades is a word guessing game that's fun to play on video chat. A player acts out a word or phrase, such as a movie or a book, while other players guess the word or phrase. You can play individually or divide into teams. To play, create a list of ideas or use an online charades idea generator to choose your words and phrases.
Open gifts virtually
You may not be able to exchange gifts in the same room as your family members, but with video chat, you can set up a virtual gift exchange by:
Selecting a date and time
If your guests live in multiple time zones, talk to your family or friends in advance to find out when might work best for them. Once you gather that intel, you can select the best day and time that works for everyone. It's also important to pick a date that allows enough time for gifts to arrive. More people shopping online due to COVID-19 has put a strain on shipping services, so keep potential delays in mind and plan ahead. As the host, you can help by encouraging guests to send gifts by a specific date.
Encouraging participants to create gift lists
To make it easier for people to find presents and ship them on time, it's a good idea to ask people to make lists of what they want.
Assigning an order for opening the gifts
To ensure the gift exchange goes smoothly, everyone should know when their turn is. This can be as simple as making the order youngest to oldest.
Setting a time limit on the party
To make sure the exchange goes smoothly and everyone's time is respected, it's a good idea to keep the exchange to a couple of hours at most.
Sending out an email or virtual invitation
Once you've worked out the details, make sure to let everyone know. An invitation will allow them to RSVP and put the gift exchange date on their calendars.
Host a virtual happy hour
A fun way to enjoy the company of friends and family over long distances is a virtual happy hour. It's a great way to relax, let go and celebrate the holidays.
Choose the drinks
A happy hour isn't happy hour without the drinks! When you send your invites let guests know what the beverage list is. If you're going with mixed drinks, include the recipe so your attendees can pick up the ingredients in advance. If you want to make things simple, just allow guests to select whatever drink they would like to have during the happy hour.
Set a dress code
One way to add additional fun to your cocktail party is to set a dress code. The style of dress can be whatever you want. For the holidays, consider a pajama party to simulate the night before Christmas. Or make ugly, holiday sweaters mandatory. You can even add a contest for everyone to vote on the worst one at the end of the night. Want to make your party more sophisticated? Ask attendees to dress up fancy for an elegant New Year's Eve soiree.
Send digital invitations
Make your party official by sending a digital invite. An invitation gets people excited, allows them to RSVP and they can instantly add the party date to their device calendars. You can get creative with how you craft your invite. The sky's the limit here, so explore your options and pick what you like best.
The holidays this year will likely be unlike any you've had in the past. While things have changed, the spirit of the season remains the same regardless of how you celebrate.
---
B21-NA-12-20
REV 12/2020