Clients starting out in their careers or with young children may not have life insurance top of mind. Old age and illness can seem like a lifetime away. Unfortunately, once you need life insurance, you may not be able to get it. Share these resources – including a client-friendly flyer and social posts – to help educate clients on the importance of protecting those in your life who financially depend on you.
How to share
To share the below posts, copy and paste the content into the social media account you'd like to use and upload the image to the post. If you are sharing a blog post, you can copy and paste the link into the post.
Social Media Post
---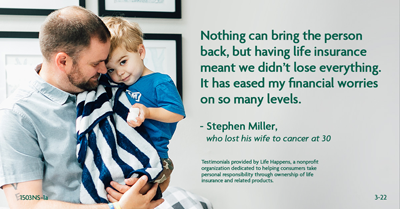 As your family grows, so do your financial obligations. Life insurance can be key in protecting your loved ones from financial hardship if the unthinkable were to happen. Contact me with any questions you may have.
Right click the image to save to your device for use in your social post.
| | | |
| --- | --- | --- |
| 1569NW-5 | FOR AGENT USE ONLY. NOT TO BE USED FOR CONSUMER SOLICITATION PURPOSES. | 8-22 |